Although a little late for Halloween,
Suck!
is a vampire themed foreplay game for couples that is great to play year round. The tongue in cheek erotic horror sets the stage for a lot of licking and sucking. Dildos, vibrators and of course the "
man stake
" are the preferred tools of the vampire hunter. In the game, players take on the roles of both vampire and hunter/victim as you chase each other around a board. Along the way, you encounter various situations and foreplay activities that enable you to increase your skill as a vampire or hunter. You may also have the opportunity to reduce your opponent's skill level. The first player to reach the top of their skill level as either a vampire or hunter wins. Depending upon whether you win as a vampire or hunter, the winner receives a corresponding sexual reward.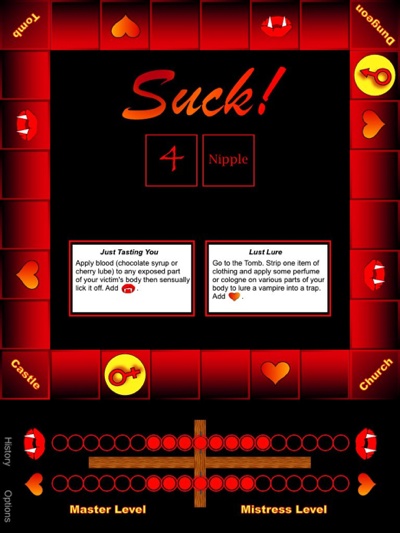 The board layout is fairly simple in design with two decks of foreplay activity/challenge cards corresponding to development of your vampire or hunter skills (fang and heart icons). The dice are actually a mixture of numbers and foreplay elements. If words show up on both dice, you perform a foreplay action instead of moving.
Suck!
was designed to play on an iPad using the EveryGame app. It's free to download and has all the files necessary to print out and play without the iPad if desired. For more details about this make it yourself sex board game and how to download it, see the blog post
Suck! Vampire Themed Adult Board Game Ready to Play
.